Metal Detector Top List In 2020
The best metal detector money can buy doesn't just get the job done. It takes ground conditions into account, makes coin hunting and relic hunting a snap, and makes the lives of treasure hunters much simpler by being easy to use. Whether you're metal detecting for leisure or are in search of gold nuggets for a healthy payday, the top metal detectors on the market are calibrated to serve both the hobbyist and the serious bounty hunter.
Many people don't quite understand the intricacies which separate an ordinary metal detector and the best on the market. It's not just about how it functions at a low frequency or at a higher frequency. It's not just about its pulse induction capabilities or how effective it is at gold prospecting and relic hunting. The best metal detectors out there are multifaceted. They get the job done in a wide variety of circumstances.
Whether you're exploring the niche of Civil War relic hunting or looking for an entry level machine where you don't have to ruminate over coil size and other advanced features, sifting through countless metal detector reviews can be a drag. This is especially true if you're not versed in the lingo and are scratching your head over the concepts of ground balancing and pulse induction.
Lucky for you, we're here to help you take the guesswork out of metal detecting! Rather than forcing you to cobble together information from multiple source, we've put together one definitive guide which includes our list of The 12 Best Metal Detectors in 2020, a handful of Frequently Asked Questions, and the handiest Buyer's Guide for metal detectors around!
Let's get started with the list, shall we?
The 12 Best Metal Detectors In 2020
1) Garrett ACE 400 Metal Detector
No matter what your skill level may be, the Garrett ACE 400 hits its target with ease. It has all the features of the best detectors on the market, but it's also balances things out by being an extremely easy-to-use machine. It also provides an upgrade over the popular Garrett ACE 300 model with an increase in operating frequency from 8 kHz to 10 kHz. So whether you are beach hunting for treasures or seeking out a different small target with medium conductivity, the Garrett ACE 400 offers expert precision at an extremely reasonable price point.
Pros:
The LCD display is as simple and easy to read as it gets. The bright, easy-to-read LCD screen also includes an evolved version of Garrett's Target ID Legend with demarcations of different coin denominations.
The standard search coil for the Garrett ACE 400 is really intuitive for finding valuable targets in areas filled with trash and other detritus. You can also purchase a smaller search coil for finding tiny targets on dry sand and dirt.
This is the first ACE model which gives you the ability to find targets encased in or with a signal partially blocked by iron. The Iron Audio system is fantastic at separating and filtering out ghost signals, and the increase from two iron discrimination segments on the Garrett ACE 250 to four makes it must easier to discern between junk iron and actual treasure.
Cons:
There is no way to make alterations and adjustments to the ground balancing factory setting. Most higher-end metal detectors will allow for tinkering ground balance manually or with automatic presets, but the Garrett ACE 400 does not.
If you're looking to find gold with the Garrett ACE 400, you're out of luck. It's not calibrated for gold prospecting, although some claim it can uncover a few gold nuggets here and there.
2) Fisher Labs F22 Weatherproof Metal Detector
One of the best metal detectors out there for beginners, the Fisher F22 is an upgraded version of the Fisher F2 which was an entry level metal detecting staple for years. The real draw of the Fisher F22 is the new, improved search coil. With a coil size of nine inches, this skinnier search coil wonder can be fully submerged in water without a drop-off in detection depth or damage. It's so easy to use, with no machine prep necessary. Just turn it on and start relic hunting!
Pros:
This is a big step forward from the Fisher F2 in many respects. The weatherproof control box is much smaller and easier to maneuver. It now comes with a volume control function perfect for coin hunting at night. And, it also comes with a bevy of new preset search features and an iron audio mode.
The LCD screen is big, bold and simple. It's loaded with a treasure trove of Target Category ID numbers and Target ID numbers to alert you to the type of metal you've found.
Very few budget or beginner metal detectors come with an iron audio function which helps to amplify iron signals at considerable depth. The Fisher F22 has this feature, thus offering extended value to both the novice and the bounty hunter.
Cons:
Intermediate and expert treasure hunters will likely be disappointed with this machine's lack of manual ground balance adjustment. You have to work within the preset modes, and that's one big drawback for the hunter who has a very particular way of setting their machine.
For those looking for extended depth out of their metal detectors, the Fisher F22 detector falls just a bit short. If you are looking for a Fisher metal detector with prime depth for getting to those hard-to-reach treasures and coins, you may want to upgrade to the Fisher F44.
3) Minelab Equinox 800 Metal Detector
The Minelab Equinox 800 metal detector has a wealth of features to its credit, but one stands out above the rest as a selling point for the machine — its employment of Minelab's patented Multi-IQ technology. This impressive innovation allows for a relic hunter to search at very low frequency, medium frequency, and high frequency all at the same time in the same coil field. It also outperforms a wide variety of offerings from other metal detector brands with automatic/manual noise cancellation and a gold search mode perfect for those with gold prospecting aspirations.
Pros:
The ability to search multiple frequencies at once with the same dd coil is an absolute game changer for the discerning treasure hunter. You can also zero in on the frequency of your choice when you've got an inkling that a target is near.
The Minelab Equinox 800 doubles as both a normal metal detector and a cost-effective gold prospecting detector. It can search at higher single frequencies of 20 kHz to 40 kHz to parse out gold nuggets, making it one of the more accessible prospecting detectors we've tested.
Not only does this multi-frequency detector have all the bells and whistles, it's also compatible with ultra fast wireless headphones while packaging everything in a lightweight machine made of some of the highest quality materialswe've seen.
Cons:
The setup of the Minelab Equinox 800 may prove a bit complicated for beginners. It's not an entry-level machine like some of the other detectors on this list, so there's a bit of a learning curve to overcome.
The battery life is a relative disappointment compared to some of the longer-lasting detectors on our list. While it can parse its target better than most with multiple frequencies at once, the power that takes drains the lithium-ion battery pretty quickly.
4) Garrett Pro-Pointer AT Waterproof Metal Detector
The peak of sensitivity in Garrett's line of pinpointing metal detectors, the Garrett Pro-Pointer AT Waterproof metal detector is a machine with major treasure hunting chops! Unlike its counterpart, the Garrett Pro-Pointer II, the Garrett Pro-Pointer AT is more than just splash proof. You can submerge this waterproof metal detecting wonder up to 10 feet in both salt water and fresh water. It also has a ton of other features to its credit including an impressive 30 hours of battery life, along with its innate ability to return itself and bypass dense ground minerals in search of coins and relics.
Pros:
If you're looking for the best metal detector for underwater usage which isn't going to set you back an exorbitant amount, look no further than the Garrett Pro-Pointer AT. This is the perfect machine for submerged treasure hunting, with an impressive ability to search through water with depth and varied frequencies.
The single-button operation of the Garrett Pro-Pointer AT only adds to the ease of use, and that's amazing considering how easy pinpointers are to use in the first place! It provides entry level metal detecting simplicity without sacrificing all of the impressive features it has to offer.
You can press the button on the Garrett Pro-Pointer AT to instantly retune itself to the ground conditions and nature of the surrounding environment. All you have to is dig your hole, press the button, and let the machine dictate whether you need a higher frequency or low frequency for your search.
Cons:
Make sure you pay attention to the beeping alarm as your 30 hours of peak battery life can diminish much more rapidly when the machine is overtaxed.
Remember that the sensitivity of the Garrett Pro-Pointer AT metal detector is not the same down the length of the detector. It's actually much more sensitive at the very tip of the machine, with less sensitivity as you go up the device. You'll have to train yourself to hold this detector correctly so you don't miss targets such as valuable coins.
5) Teknetics T2 Classic Metal Detector
If you're in the market for an intuitive pinpointer with effective sensitivity control and an ability to hang with some of the better gold detectors out there, the Teknetics T2 Classic metal detector is a steal of a deal! Complete with a coil which can find a target buried deep in the ground with seeming ease, this is one of the true standout detectors for finding anything from coins to jewelry to valuable gold nuggets. If you're on a treasure hunt and want to keep your options open, you can't do much better than the search depth and powerful stock coil of the Teknetics T2 Classic metal detector.
Pros:
Powered by four AA batteries, the Teknetics T2 Classic metal detector offers an eye-popping 40 to 50 hours of battery life. And if that power starts to wane, you can take advantage of a generous five-year warranty. Talk about legit customer support!
The variable discrimination and easy-to-adjust sensitivity of the Teknetics T2 Classic makes target identification a breeze! Even if ground mineralization is extremely dense and tricky, this is one of the more effective metal detectors around.
The compatibility of the Teknetics T2 Classic outstrips many of the other comparable metal detectors available for sale. There are seven different coils which can be purchased separately and used with the machine, and there's also a host of other accessories you can find to augment your metal detecting experience in a positive way.
Cons:
The five basic search modes are good enough for some, but will leave advanced prospectors wanting more. You can tweak settings a bit for each mode, but it will hamper those discerning treasure hunters who want to customize things 100% to their liking.
If you're searching on a saltwater beach and want to check for treasures in the water, be careful! Only the coil itself is waterproof. The machine will sustain considerable damage if submersed, which is a bit of a letdown considering its relatively hefty product price.
6) Minelab Excalibur II Metal Detector
For those for a waterproof multi frequency VLF detector which operates as far down as 196 feet in both salt water and fresh water, the Minelab Excalibur II metal detector is an absolute dream. No other noncommercial VLF detectors we know of give you this kind of depth and the ease of use when saltwater hunting or freshwater prospecting. Anybody who's looking to rove salt water beaches before going on a deep dive search for treasure will want the Minelab Excalibur II in their arsenal. It's just a fact. This equipment is an example of detector craftsmanship at its best.
Pros:
This pulse induction machine is primed and ready for deep dive prospecting in both saltwater and freshwater environs. It provides total waterproof isolation with effective operation as deep as 196 feet underwater. If you're trying to find hard-to-reach coins and treasures in the depths, this detector will do the trick.
One of the most variable frequency detectors out there with 17 different operating frequencies ranging from 1.5 kHz to 25.5 kHz. This is augmented with intelligent ground balancing and filters which parse out fake signals caused by salt water.
There aren't many search coils out there which boast such sensitivity and discrimination in equal doses as with the 11″ DD coil on the Minelab Excalibur II. This machine and coil combo ignores iron trash and other wastes of time, leaving users with confidence that will finds treasures such as coins and jewelry.
Cons:
TheMinelab Excalibur II does not have an LCD display. When tuning this detector, you'll have to execute it via analog controls. This can be a drag when beach hunting and attempting to adjust things on the fly.
The headphones for this machine are hardwired into the unit. In fact, there's no wireless headphone capability to be had. Combined with this unit's considerable weight (5.1 pounds), things can get a bit unwieldy for the uninitiated prospector.
7) Fisher Labs F75 Metal Detector
Going in a different direction from the preceding entry on this list, the Fisher Labs F75 metal detector eschews underwater capabilities for a land-based approach. However, what it lacks in underwater versatility is made up for by the one of the best tracking experiences for finding coins and jewelry out of all the metal detectors we've listed. It also sports one of the lighter designs you're going to find. For beginner and intermediate prospectors willing to ignore the water for the dry sand and dirt, the Fisher F75 is exemplary.
Pros:
The prime selling point of the Fisher F75 metal detector is its impressive sensitivity for your buck, parsing through false signals with its double-filtration discriminator to find small items such as coins and trinkets at impressive depths.
For those prospectors who find the right settings and balance of features, this machine comes with the useful ability to save your settings for future excursions.
While the structuring of the unit has its drawbacks for some (more on that in a second), the Fisher Labs F75 is built with durable materials which take a licking and keep on ticking. Out of the twelve detectors on this list, this is one of the toughest from a construction standpoint.
Cons:
The Fisher Labs F75 is constructed with a locking collar system which adheres most of the moving parts together in one detector clump. For those looking for a little more pliability out of their machine, this might be a deal breaker.
The settings on the control panel will be a bit hard for beginners to decipher without some help. The control unit itself is finely crafted, but novice prospectors will need a crash course in certain lingo such as "discrimination regimes."
8) Garrett AT Max Waterproof Metal Detector
When it comes to single frequency detectors, there's the Garrett AT Max and then there's the rest. 13.6 kHz is perfect for finding coins, relic hunting, and parsing out targets big and small on a wide variety of terrains. It's the way that the Garrett AT Max puts everything together which makes it special, boasting top-of-the-line software for its LCD display and trusted construction which is a calling card of Garrett's finest detectors. And the Garrett AT Max is undeniably one of their finest.
Pros:
Garrett has a penchant for releasing easy to use detectors, and the Garrett AT Max may be the best example of that they have. While it has plenty of options and features to tinker with, it's all done with an interface that's simple and user friendly.
When both the ground surface and weather conditions get tricky, the Garrett AT Max gets going. Beach use is a snap with the machine's IP68 waterproof rating. Whether rain or fog, sand or packed dirt, it will operate at peak functionality.
The discrimination modes, ground balance options, and detection depth of the Garrett AT Max are all near the top of the class for detectors. No matter what type of metal you're looking for and where you're looking for it, the Garrett AT Max gives you a chance where other machines may fail.
Cons:
Many people enjoy the promise of multiple frequencies from their high-end metal detectors, so the lack of varied frequencies to choose from may turn some users off.
There are definitely lighter detectors out there and there is a chance you'll get tired holding the Garrett AT Max up for long periods of time.
9) Minelab Vanquish 540 Waterproof Metal Detector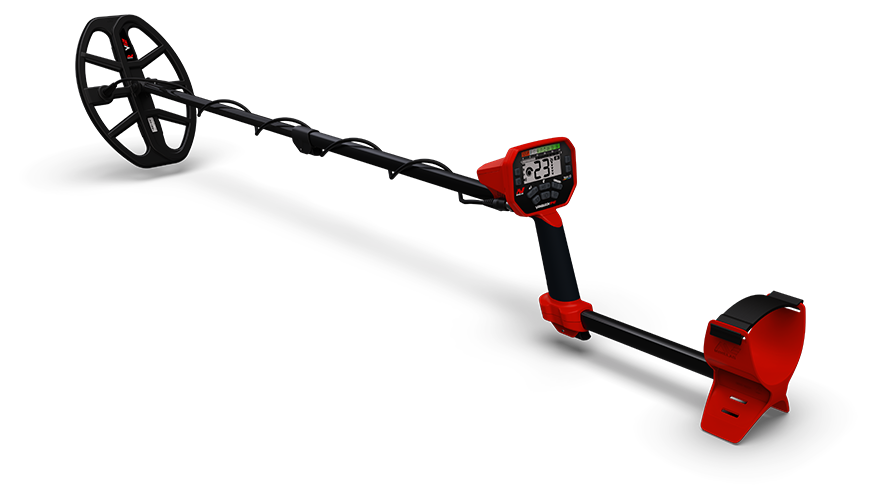 Of the three metal detectors in the Minelab Vanquish series, the Minelab Vanquish 540 is the most complete and worthwhile machine for relic hunting and general metal detecting. An all-purpose detector with multiple frequencies to choose from, the Minelab Vanquish 540 is Bluetooth compatible (for syncing with the Minelab app). It's also compatible with a host of different search coils which can help you fine tune the pinpoint mode it offers. If you're a beginner and want an advanced detector which walks you through how to use it, make sure you circle the Minelab Vanquish 540.
Pros:
Whereas the ground balancing features of the Minelab Vanquish 340 and 440 are fixed, the Minelab Vanquish 540 has an adjustable ground balance option which ties in wonderfully with its whopping 25 different discrimination segments. It also has a easy-to-understand target ID system.
The way the Minelab Vanquish 540 handles makes it one of the kind, even as part of a three detector series. It's a simple and easy detector to use for beginners and experts alike, and the backlit display is an absolute boon for those looking to go metal detecting at night.
This is the first metal detector we tested for this list, and it still left a lasting impression with its adjustable Iron Bias control and waterproof V12 coil. The control box is also waterproof, making this a fantastic detector for prospecting in bad weather.
Cons:
This unit is slightly heavier than the Minelab Vanquish 340 and 440 at 2.9 pounds. While it hits its target at considerable depth, it can get a bit tiring with the extra weight and construction of the machine.
Only headphones native to the unit work with the Minelab Vanquish 540, and no headphones are actually included with the unit.
10) Fisher Labs CZ-21 Metal Detector
Are you an adventurer who wants to trove the depths for hidden treasures? Are you looking for the deepest diving underwater detector of detectors? You're going to want to give the Fisher Labs CZ-21 a spin! While there's no LCD display to be had, the three-tone audio target ID system is an absolute innovation. With it, you can easily hear the difference between iron and gold both underwater and deep in the ground. Depth is the name of the game for the Fisher Labs CZ-21, both its features and in its range.
Pros:
Regarded by many experts as the best underwater detector in the marketplace. Not only does it boast the aforementioned target ID system, it also is adept at targeting all kinds of different treasures with exemplary precision and two frequency options (5 kHz and 15 kHz).
The manual ground balance of the Fisher Labs CZ-21 is an absolute breeze to use, tweaking and adjusting easy for effective signal penetration through dense ground minerals. The automatic ground balance is even easier, proffering easy depth of range in and out of water.
Whatever objects you're attempting to find in whatever body of water you're searching (and for whatever reason), the Fisher CZ-21 is turned perfectly to meet and exceed your deep dive prospecting needs.
Cons:
This is one of the heavier detectors on our list, weighing in at 5.3 pounds. It's not particularly unwieldy, but it can be a strain outside the water.
The 8 inch coil included with the Fisher CZ-21 is hardwired into the unit. If you want to swap out for a thicker coil, you'll have to send the device back to Fisher Labs and wait.
11) Nokta Makro Simplex+ Waterproof Metal Detector
Whether you're a beginner just looking to go coin shooting for some extra pocket change or an expert looking for a low-cost metal detector with a ton of useful features, the Nokta Makro Simplex+ waterproof detector is an absolute masterclass. It's single operating frequency of 12 kHz is perfect for searching out metals of all kinds, be them coins or valuable lost collectibles. Of all the detectors on this list, the Nokta Makro Simplex+ may be the best option for newbies looking for their first metal detector. And seeing that it's such a blast to use, it may very well be their last.
Pros:
There is no particular detector metal which the Nokta Makro Simplex+ is better or worse off at uncovering. Its universal frequency is perfect for finding all different types of metals across a wide swath of various ground conditions. It's a cinch.
For such an agreeable price, you get all of the features you'd want out of a much more expensive detector. There's the option for manual or automatic ground balance, a ferrous metals filter (no rusty nails or bottle caps here), and even a silent mode for night prospecting which converts signals into vibration. No need for volume control when you can go silent!
This is perhaps the best metal detector for somewhat just starting out with the hobby. It doesn't take much to calibrate it to your particular search area, turning wherever you're at into fertile treasure hunting grounds.
Cons:
Advanced prospectors who swear by multiple frequency metal detectors need not apply with the Nokta Makro Simplex+. While the single frequency setup is definitely not a con for most searches, there are circumstances where it definitely will hamper an expert hunter.
While the Nokta Makro Simplex+ detector is totally waterproof, it's not meant for deep dive prospecting. You can catch a signal as far down as ten feet, which is 1/20 of the depth of the Minelab Excalibur II.
12) Garrett AT Pro Metal Detector
One of the most versatile metal detectors ever released, the Garrett AT Pro may very well be the Swiss army knife of metal detectors. The AT Pro can be used for everything from jewelry hunting to salt and freshwater prospecting thanks to its catchall 15 kHz universal frequency and waterproof constitution. While it's not the best gold prospecting device out there, it can still find nuggets pretty easily along with anything else you can think of that's made of metal. When it comes to the best metal detectors for hunting situations far and wide, the AT Pro is at the top of the list.
Pros:
This might be the best deal on our list when it comes to combining state-of-the-art features, ease of use, and a price that's not going to break your bank. It's just a balanced device sold for a worthwhile amount, and that's a wonderful and rare kind of thing.
The AT Pro has one of the quickest recovery speeds of any detector available for sale. This keeps iron trash and other worthless targets from backlogging your device and throwing you off the scent (and sound) of real treasure!
The 15 kilohertz frequency is perfect for landing a small target such as a lost wedding ring, coins, or jewelry. Combined with the wealth of advanced features the AT Pro has to offer, it's an absolute godsend for a hunter looking for a true score!
Cons:
As we've said with the other detectors on this list which use a single operating frequency, this device isn't for those who look to multiple frequencies as a necessity. While this device picks up ground signals from soil and sand like few others, that's still a sticking point for some.
While the device has fantastic range and comes from a trusted brand in the industry, there is a bit of weakness to the control box casing which has been noted by some users. Most detectorists who use the AT Pro swear by it, but we just wanted to pass on the knowledge we have.
Frequently Asked Questions
What is the best metal detector on the market?
All 12 models on this list can stake a claim to this, but we lean slightly towards our last entry — the Garrett AT Pro. There isn't another detector out there which meshes intelligent design, versatility, a bevy of useful features, and a positive review history that spans across multiple eCommerce sites. Yes, it's a single frequency machine. But, it's the right one for finding all sorts of different coins, relics, and treasures.
It's extremely hard to pick the best device out of all of these, so there's bound to be those who disagree with this. However, we're confident that anyone can get what they need and what they want out of the AT Pro. It's ground balance is absolutely top shelf and its pulse induction capabilities are right there as well.
Just make sure you look into the other detectors we've listed if there's a specific niche you're looking to satisfy.
What is the best metal detector for the price?
Choosing the best metal detector for the price is just as hard as choosing the best overall metal detector, but there's something about the budget-friendly Nokta Makro Simplex+ waterproof metal detector which just screams value. Out of all the machines we've tested, it was the Nokta Makro Simplex+ which had us rubbing our eyes. How could a detector have this many great features (including an easy to understand target ID system and a fantastic ground balance feature) and cost so little?
Heck, it even has a silent mode for night prospecting. And a ferrous metals filter which keeps you from busting out your digging tools for buried trash. It's a great machine well worth the minimal investment, especially compared to the much more expensive options out there.
Which metal detector has the best depth?
In regards to the land-centric metal detectors on our list, we give the nod to the Minelab Vanquish 540. It truly is something to behold and has lots going for it, but what it really does best (based on our research) is clarifying signals deep underground which would be usually marred by minerals and other potential signal killers. That's what its 25 discrimination segments will do for you, and the fact that there's a lot of other search coils you can buy for it allows the enterprising prospector to really maximize its search depth.
If you're deep dive underwater prospecting and need the best depth of submersion available on the domestic detector market, you have to go with the Fisher CZ-21. It's able to pick up discernible signals some 250 feet under the water — 50 feet more than the impressive Minelab Excalibur II.
What is the best metal detector for treasure hunting?
One entry we considered but didn't include on our list is the Fisher Gold Bug 2 detector which is a pure gold prospecting device. Other entries on this list can offer that and more, so we relegated it to niche status in favor of versatile beauties such as the Minelab Equinox 800.
If you're looking to find a wide variety of different treasures (including gold and other key valuable metals), you can bank on the Minelab Equinox 800 and its Multi-IQ technology. Its aforementioned Gold Search mode basically provides you with a dedicated gold prospecting device when you need it. No matter what terrain you're hunting on and the depth which you treasure may be buried, the Minelab Equinox 800 is a go-to detector for the job.
What is the best metal detector for coins and jewelry?
For those searching for coins and jewelry on dry land, the Fisher F75 is calibrated just right for finding coins, jewelry, and small trinkets. Its sensitivity is off the charts thanks to its groundbreaking double-filtration discriminator which weeds out false signals and lands your target much more often than not. It's also got impressive ground balance capabilities which make it an extremely easy pick for finding tiny treasures.
What also makes this the best device for finding coins and jewelry is the aforementioned ability to save your settings for future searches. Once you get the device calibrated perfectly to find coins and treasures wherever you're hunting, you can keep it at those setting for future hauls.
Ultimate Metal Detecting Buying Guide
While we have our opinion on the best metal detector you can be, it's essential for the serious prospector to weigh the strengths and weaknesses of different products before coming to a buying decision. Maybe you prefer one company over another. Maybe you don't know the difference between companies, but you know the kind of performance you're looking for.
Or maybe you don't know much about metal detecting at all and just want to give your local parks or the area around your home a thorough once over.
Wherever you're at in the process, we're here to help. To assist you in finding the best machine for your needs and wants, we've put together this definitive buyer's guide on all things metal detectors. Let's dive into the questions you should ask yourself and the features you should be looking for before starting your next (or first) hunt.
What type of device do you want (or do you need)?
Before we find the best metal detector for you, we need to cover the basics. There's three different types of detectors for you to choose from, each attacking the ground in a different manner despite having similar features to one another. The types are as follows:
PI detectors — The best detectors for beach hunting, pulse induction detectors use one coil for both transmitting and receiving signals. It excels at piercing through dense minerals to pick up signals other detectors may not catch. However, PI detectors are not built to discriminate between iron trash and metal treasure. Therefore, they should be used in areas where there's not a lot of trash and potential for false signals.
MF Detectors — Multi-frequency detectorsare generally the most expensive of the three types, but that's because they're primed for both urban and beach hunting (and everything in between). The inclusion of multiple frequencies allows you to tailor the detector to your needs, but the drawback is the investment you're going to have to make.
VLF Detectors — Very low frequency detectors have two different coils. The receiver coil listens for signals coming off targets. The transmitting coil creates a magnetic field, both garnering signals and helping to discriminate between trash targets and treasure. They struggle with ground mineralization much more than the two types above, but they're simple to use for beginners and are great for the purpose of finding bigger targets.
Where will you be hunting? What location most appeals to you?
Some metal detectors work well at finding small targets on beaches while others are better served for finding larger targets in urban areas. And that's not even to mention the subsection of waterproof detectors for those looking to dive off the coast and into a submerged world of treasures.
PI detectors are great for those people headed to the desert, to the beach, or other areas with limited man-made interference. VLF detectors are much better for parsing out larger relics and metals in areas which are much more built up. MF detectors can definitely do both, but will likely cost you an arm and a leg to procure.
If your main search area is going to be underwater in an ocean or a lake (or another body of water), make sure you look at the specs of the waterproof detectors out there. Some are more water resistant than waterproof, and others are waterproof but aren't made for deep dive prospecting.
Ask yourself where you wanna go before you leave the house with a tool that doesn't work for the job.
What kind of money should you spend?
The best metal detector for you may not be the best detector for your bank account. If you're really looking for a versatile device which can parse through any locale with clarity, you could spend anywhere from $700 on up for that kind of power.
And if you need a specialized detector for deep dive prospecting or gold prospecting, you could even spend over $1,000 for the device you need. That's not even to mention extra accessories such as spare coils and carrying bags.
There are definitely ones out there which are much cheaper, say $200 to $400. Those are usually great for novice prospectors who aren't worried about having all the bells and whistles of a more expensive device.
The problem with that is that if and when you become a true detectorist, you're may question not choosing a more advanced machine in the first place.
Be honest with yourself and your finances. If you're new to the hobby, chances are that a cheaper machine will do fine for the purposes you ask of it. However, plopping down extra cash on a quality MF detector may be the way to go for someone more serious about achieving treasure hunting success.
What features should you look for?
Now it's time to get to the good stuff. Whether it's a quality depth gauge or easy-to-use ground balancing, each metal detector on our list has features which are either very nice to have or essential for certain search operations. We're here to take the plunge and discuss all of the nuances you should be looking for in your pursuit of the best machine for your journeys and expeditions to come.
Coil length and thickness — One thing to know is that the larger a coil is overall, the deeper it can usually penetrate to pick up a signal. However, larger coils are heavier and are also more prone to being susceptible to false signals. You should also pay attention to the versatility of the detector you have eyes on and whether it's compatible with other coils available for purchase separately.
Recovery speed — Otherwise known as reactivity, the recovery speed of a device is critical in areas where there are tons of metals which could be picked up as signals. When a detector has a faster recovery speed, it's able to process targets quicker while potentially differentiating between trash and treasure. The better the reactivity, the more chances you have.
Target identification — The best detectors out there leave nothing to chance, or at least very little. If your detector has a good target ID system, you'll be able to classify what it's found and whether it's worth digging up. Some ID systems take practice to decode, while others are much simpler and more user friendly.
Frequency — This is the biggest point of contention for detectorists in general. Some swear that multiple-frequency detectors are the only way to go. Others believe a dedicated frequency is perfect for most jobs. The fact of the matter is that lower frequencies penetrate deeper and are better at finding big treasures, while higher frequencies are much more adept at targeting smaller items and valuable metals like gold. If you can find a detector which splits the difference with a middling number, it's usually a good bet.
Sensitivity control — The more sensitive a device is, the deeper it can send and receive signals. However, too much sensitivity at the wrong time can lead to a litany of false signals from trash and minerals. Your best bet is finding a machine with an intuitive sensitivity control scheme which lets you adjust things case by case.
Discrimination — Somecheaper detectors are unable to differentiate between trash signals and quality ones, while others simply don't do that great of a job. For customers looking for extended value (and not to waste time digging after trash), finding a device with multiple discrimination segments is a great idea. The more discrimination segments, the better chances you'll be able to tell whether the signal you've picked up is worth working for.
LCD screen —If you're not interested in deciphering audio cues or vibrations, a quality display which gives you target codes and other key information is worth the extra money it may cost. Adjusting things on a LCD display is usually much easier than tweaking analog controls, but some detectorists do prefer the feel of the latter.
Ground balance — Perhaps the most helpful feature of them all, a solid ground balancing system helps you parse through trash and minerals for treasure. The more effective your ground balance is, the easier it will be to eliminate misleading signals and find the real goodies underground. Some devices have automatic or preset settings, while others allow for manual tinkering. Where you're prone to hunt factors in heavily as to just what kind of ground balancing you need.
Waterproofing — If you're going to be underwater prospecting, you'll need a completely waterproof machine which is also able to send and receive signals at a considerable depth. And if you're going to be hunting in areas where rain is prevalent and frequent, you're going to at least need a device that is water resistant and won't get damaged under such circumstances.
Some final things to consider
Does your machine comes with a kit full of accessories such as headphones and extra coils? Or are you paying top dollar for a device which will lead to more spending down the road? Look into just what comes with a detector. If there's one that's just a little more expensive yet has all the features you need plus extra accessories, that could be your best option.
Also, it's a great idea to read as many reviews as you can. If you're buying a cheaper detector from a company not listed in this article, it behooves you to read up on that brand. If reviews are overwhelmingly negative for their products and recommendations are scarce, it's best to steer clear and go with a more trusted company.
The weight of your device and the quality of the materials used to construct it should also be taken into account. You don't want to lug an unnecessarily heavy device to search sites, but you also don't want to invest in a metal detector that's built from flimsy plastics and other materials.
Finally, double check to see if the manufacturer of the metal detector you're considering offers a warranty. Metal detectors are significant purchases for most, so it's always good to have a fall-back plan.
And there you have it! Metal detecting is an immersive hobby which appeals to people of all ages. Whether you're looking to become an avid treasure hunter or just want to give it a shot, bookmark this article for future reference. Who knows? It may help you find the score of a lifetime.